In August of 2015 my husband and I left our 5-month-old son, Theo, for the very first time for a trip to New York City. Little did we know what lied in wait just one week later. We returned home from our trip and noticed some small changes in our baby that led to visits with the pediatrician, a pediatric ophthalmologist, and two trips the emergency room all in the same week—the final emergency room visit would change our lives forever. It was then that we were told that Theo had metastatic alveolar rhabdomyosarcoma. Alveolar rhabdomyosarcoma is a rare, aggressive form of childhood cancer that affects approximately 350 children annually. It has no cure. After enduring 14 months of treatment, comprised of drugs created for adults – not children – our perfect boy passed away.
We spent every day of those 14 months searching for an answer that would save Theo. Since 1980, there have been less than ten drugs developed for use in children with cancer. When a child dies from cancer, an average of 71 years of life are lost compared to 17 years of life lost for an adult, and outrageously, of the 43 children that are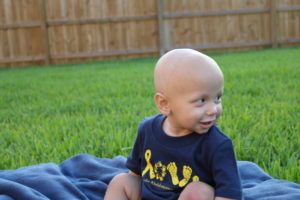 diagnosed every day with cancer, seven of them will not survive. The truth is, most people don't realize that pediatric cancer research receives only four percent (4%!) of the federal government's funding for cancer research. That's a main reason why rare cancers, like Theo's, don't have cures. With this reality, we knew we had to do something. Five months after Theo passed away, Fashion Funds the Cure Fort Lauderdale was born out of necessity and hope, which we hosted in Theo's memory.
Fashion Funds the Cure Ft. Lauderdale benefits the National Pediatric Cancer Foundation (NPCF). The NPCF funds pediatric cancer research across a network of more than 24 children's hospitals throughout the country. More research is desperately needed to find better treatments for kids like Theo, and we've made it our mission to help fund that research. Children who are currently battling cancer or are in remission make their runway debuts dressed in the latest fashion provide by Dillard's, and in apparel highlighting their dream occupations. Each child dresses up as what they want to be when they grow up and then struts the runway during the "dream walk."
This year on April 14, 2018 we will host the second annual Fashion Funds the Cure Ft. Lauderdale at Nova Southeastern University (NSU), in Davie, FL. We are excited to bring Fashion Funds the Cure to NSU's campus, and a portion of the event's proceeds will fund cutting-edge pediatric cancer research at NSU's Center for Collaborative Research. The event kicks off at 6:30 p.m. with cocktails and small "bites" from local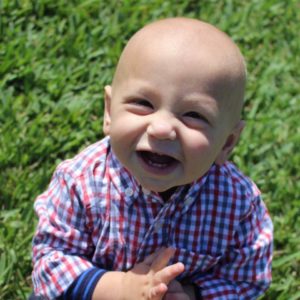 restaurants, followed by an inspiring fashion show at 7:30 p.m. Fashion Funds the Cure gives children who are battling cancer the chance to show their strength during an evening that is all about them, while giving the community a chance to support an incredible cause. We would love for you to be a part of it.
To purchase your tickets, visit nationalpcf.org/fftcftlauderdale and for information on sponsorship opportunities, contact [email protected].
Written by Leah Huff