Stone crab season opened on October 15th 2019, to much fanfare.  Recreational trappers can put out five traps per person, and can harvest one gallon of claws each (not more than two gallons per vessel), so long as the claws are 2-3/4″ from the tip to the first knuckle.  If you can, cook your claws before freezing them- the meat will come out of the shell more easily if you do.  Of course, the best seafood is fresh seafood!
Look for stone crabs around areas with structure and good current flow.  Bridges, jetties, rubble piles, and natural hard-bottom are great places to look, but keep your traps out of navigable channels.  Fish heads make great bait, and chicken can be used in a pinch.  Let your traps soak for at least 48 hours before pulling them to check for crabs.  Check the weather: if a cold front is going to push through the Bay, deploy your traps a couple days ahead of it.  The cold weather will push the crabs around, and you may see more crabs per trap.
Here's a great video by the Florida FWC on how to remove a stone crab claw: https://www.youtube.com/watch?v=YTgXTS8gLjU&list=TLnQRAwSvTNJIWoEhDc6TU1Scmow-0q2US.  Properly removing the claw means the crab can regrow it when it molts, making stone crabs a great sustainable fishery.  You can legally remove both claws from a crab if they are both of legal size; however, leaving one claw attached allows the crab to forage for food and defend itself more effectively, resulting in a healthier molt in the late spring.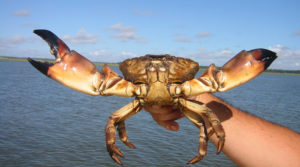 The recreational stone crab season closes on May 15th.  Always mark your spots to make sure you don't accidentally pull someone else's traps.  Good luck, and good eating!
* About the Author: Ryan Rindone is originally from Noth Carolina, and has lived in Tampa Bay since 2011.  He is an avid diver, and fishes inshore and offshore via hook and line and spearfishing.