For almost 20 years, Antique Alley has quietly provided shoppers a relaxed and inviting setting to search repurposed antiques, furniture, original creations and a wide range of new items for one's self or one's home. But in recent years, The Alley has expanded its assortment of stores to include those selling flowers, art, jewelry, gifts, health and beauty products, clothing, books, paint, baked goods, home décor items and more. Shoppers can still find antiques in foundational stores like Collum Antiques, Victoria's Parlor, and Alley Antiques; but new stores such as Lemon Tree Vintage Market, Laura Katz Home, Orchid Interiors, Mango- Etc., Nostalgia, and Shabby 2 Chic have since joined The Alley. Together, they all create a space for both the "old" and the "new," giving Belleair Bluffs residents and visitors a distinct shopping environment that is unmatched in Tampa Bay. As one shopper recently said… 
"these are not your mother's antique shops!"
The Lemon Tree Vintage Market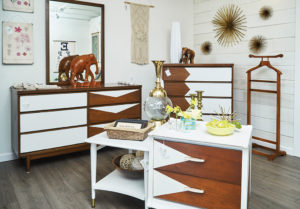 "This market offers a unique collection of refreshed antiques, home décor, locally-made jewelry, gifts, and one-of-a-kind, re-purposed pieces.Honoring my parents in choosing the store's name and logo, I opened Lemon Tree in October of 2017. The store provides a warm and inviting experience to visitors – whether looking for a specific item, just browsing, or simply stopping by to say "Hi." Everyone gets a warm welcome and a smile!" – Amy Lemons McDermont. 
To see featured items, shop online by clicking here. 
Shabby 2 Chic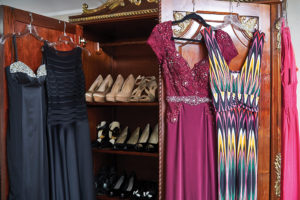 "A thrifty repurpose boutique that supports the mission of Shepherd's Village: helping single mothers and children build a healthy foundation through affordable housing and life resources. Shoppers can experience a unique thrifty boutique offering new and used home furnishings and women's finer apparel, shoes and jewelry."Stop by to shop or donate today, ask for Debbie, tell her FLocal sent you! Open Tuesday – Saturday, 10am – 4pm. 
For more information or how you can donate items, visit here. 
Laura Katz Home
"I opened my store over three years ago. I enjoy expressing my creative side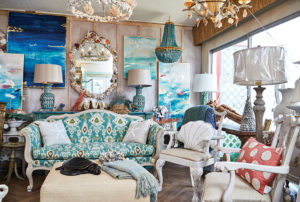 by painting abstract landscapes, most of which include gold or silver leaf, and making shell encrusted chandeliers, mirrors, and smaller home accessories. In another life I raised four beautiful and smart daughters, and have experience owning a wholesale artwear company." Laura Katz Home is comfortably elegant and bohemian chic.
Follow Laura Katz on Facebook by clicking  here.
Orchid Interiors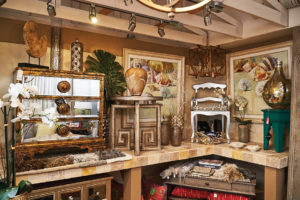 "Orchid Interiors offers window treatments, fabrics, wallpaper, and interior decorating and home staging services. We have been in business for 10 years! I have a niche for design and décor and I love assisting customers with all of their decorating needs. In the showroom we carry over 20 fabric lines and various wall coverings, an in-house seamstress and workroom, and coastal furniture and décor." – Anne McCord.
Visit Orchid Interiors online by clicking this link.
Mango-Etc.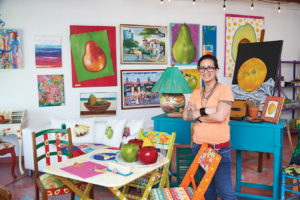 "Mango-Etc. was created by us (mother and daughter artist team, Olga and Joanna) with one dream in mind: owning our own studio and forming part of the Pinellas County art community. My mother, Olga, is a Venezuelan artist with a background as an interior design and food stylist. I have a degree in art with many years of experience as an art teacher." Mango-Etc. opens its doors to a colorful world of art and unique repurposed furniture.
Follow Mango-Etc. on Facebook right here!
Nostalgia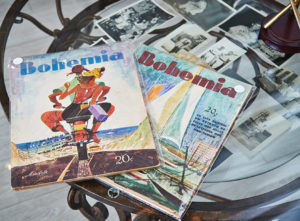 "When I opened a store in The Alley over three years ago, I wanted to accomplish three things: be unique while providing people with what they want; deliver an enjoyable and memorable shopping experience; and of course, have fun doing it! My store, Nostalgia, has a coastal theme and feel all its own; blending traditional and contemporary with some Cuban/ Hemingway influence (from my native Cuba) and brings old and new, whimsical and practical, formal and comfortable all together under one roof for a fun, friendly and satisfying shopping experience." – Rosa Sollecito.
Follow Nostalgia on Facebook by clicking here!
Want more antiques? Try these links!