You will never forget your wedding day toasts. Heartfelt moments shared by the best man and maid of honor, the sound of glasses clinking, and the bubbly that will initiate your celebration of a lifetime. The champagne chosen will become a symbol of your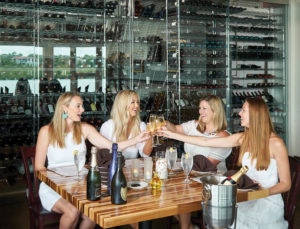 special day for years to come. With so many options, it can be hard to narrow down the best. FLocal Magazine Publisher, Britt Blume, sat down with Rachel Caldwell – Salt Rock Grill Events Coordinator, Alivia McDaniel – Founder and President of Your Best She, and Mazie Purcell – Owner of Southern Reclaim to sample the best sparkling wine from Salt Rock Grill's cellar. These are our top FLocal Favorites for weddings, bridal parties, or any small gathering.
Moet and Chandon, based in eastern France, is one of the top five oldest champagne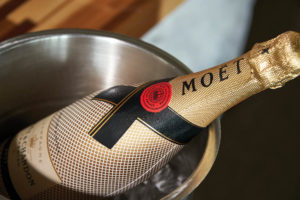 houses in the world. Known for the creation of the popular Dom Perignon, Moet and Chandon blend only vintage champagnes, specific to the year in which it was brewed. This vintage Dom Perignon Brut is the result of exquisite weather conditions in 2009. Grapes used at the peak of ripeness give this champagne its fresh, crisp taste, coupled with subtle hints of guava, spicy green grapefruit, white peach and nectarine.
Louis Roederer, founded in 1776, is a family-owned champagne house based in Reims,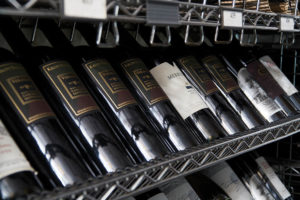 France. Roederer is known for their quality wines, and most famously for their flagship champagne – Cristal. The first bottle of Cristal was crafted to serve the Russian Tzar, Alexander II, who requested the Roederer House's best cuvee every year. The 2005 vintage of Cristal from Louis Roederer is a stand-out among critics for its smooth texture and fruity aromas, with hints of white fruit and citrus and classic Chardonnay character. A tip: let the bottle breathe for a few minutes to enhance its fruity flavors.
Passed down for nearly six generations, Duval-Leroy is a French institution that revels in the craft of champagne-making. Known for its quality non-vintage champagnes,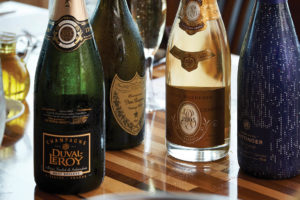 Duval-Leroy's sparkling Brut Reserve is a true testament of the passion for each bottle created. The highly-acclaimed brut develops aromas of dark chocolate, cinnamon, and roasted yellow figs, with subtle tastes of patisserie apple and pear, biscuit and ground ginger. It was the only champagne recognized by Wine Spectator magazine in its Top 100 classification for 2008.
To try our FLocal Favorites at The Salt Rock Grill in Indian Shores, call and make your reservation, (727) 593-7625, ask for Rachel! Take photos of your party and tag us @flocalmagazine. Use the hashtag #FLocalChampagne to be featured on our Instagram page!
All Photos by Jonah Gilmore.