Six Tips From The Pros At Alessi Bakeries
For bustling brides and grooms to be, choosing the wedding cake can be the sweetest experience or just another task off the long list of wedding day to-dos. We spoke with the professional cake designers at Alessi Bakeries, who gave us insider tips on how to create the cake of your dreams and how to simplify and savor the moment.
Book your consultation in advance.
Some clients wait until the last minute when planning cake tastings because they believe the cake will be available fresh at the bakery when they arrive, and that's not necessarily the case! Certain cake plates and designs require a lot of decorations, filigree, etc, which will require advance planning and preparation on behalf of the bakery. Additionally, your bakery may be busy creating cakes for other weddings. Therefore, it is important that you provide your order details early. For example, Alessi Bakeries usually requests a 30 day notice.
Have flavors in mind that you would like to try.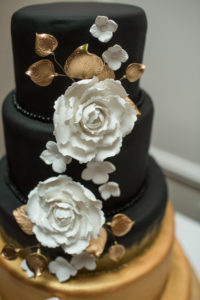 When booking your appointment, have a rough idea of what your dream cake would be, and then take a look at the available flavor and filling lists. Our lists can be found on our website and our Facebook page. This way, when you call, you can tell us what flavors and combinations you are wanting to taste during your consultation. We will have it prepared and available so you can get a true representation of what your cake will taste like on your wedding day! Our most popular cake flavors are the traditional white cake and yellow cream cake, and most popular fruit filling is the raspberry preserve. Almond Bavarian Cream and Nutella Mousse are popular fillings for chocolate lovers. We even have a few new flavors that have already become favorites amongst clients. Our new lavender cake uses a base of white cake, which is tinted a pale lavender color, with a lavender oil flavoring and topped with a honey lemon mousse. We love trying new things and thinking outside the box to create flavors you can't get anywhere else.
Bring in photos on your Pinterest inspiration.
We typically ask clients to bring in photos of cakes they have been looking at for inspiration, whether it be on Google, Pinterest or our own website. We sometimes get clients that come to us not knowing what direction they want to go, and so it's refreshing to have clients who come in with their Pinterest or a vision board that shows some of their favorite colors and textures. This lets us put things together and create a design for them based on their preferences.
Bring in a color switch.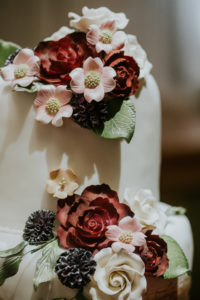 We ask clients to bring in a color swatch so that we can match the wedding theme and décor. This could be a colored ribbon or an inseam of a bridesmaid dress. A major tip we have for brides, especially if they are working with many different vendors, is to go into Home Depot or Lowes and pick out your color pallet there – grab multiple paint sample cards of each color and keep them on hand to give to your vendors, so we are all on the same color page!
Keep the cake tasting party small.
For a first-time bride who might be nervous or unsure of what they want, there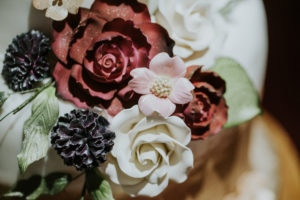 is a tendency to want to bring in too many people to help them choose the right cake. Don't worry-Alessi is here for you! We will walk you through the entire process from start to finish and will continue to be with you until the big day. Having only one or two opinions in the room will simplify the decision-making process and help to ensure you are getting exactly what YOU want for your special day.
If cake is not your favorite, talk about alternatives!
We have had several clients come in and say, "we don't like cake," we will then ask those clients about their favorite desserts. For instance, is it key lime pie, is it brownies? Typically, we can work off of that direction and create a brownie batter cake or a cake with key lime pie filling. This way, you can still have a wedding cake, but it will be a flavor combination that the bride and groom will enjoy. On the other hand, we can also create a dessert bar with platters of cannolis, cupcakes or cake pops, with eclairs or cream puffs and smaller desserts. We can also create an entire cookie bar or a cupcake tower. All it takes is having the conversation and being open-minded to creative and new ideas!
Melissa Maggiore is one of seven specialty cake decorators at Alessi Bakeries. She has been a cake decorator for over 25 years and proudly decorating at Alessi Bakeries for 17 years.
Alessi Bakeries is a family-owned Tampa bakery with over 100 years of business, located at 2909 W. Cypress Street, offering full wedding services beginning with a free consultation and ending with onsite delivery and set up.
You can find them online at http://www.alessibakeries.com/ and on Facebook https://www.facebook.com/AlessiBakeries/
Read more about the history and legacy of the Alessi name and brand in Tampa Bay in FLocal's August Food issue.
All photos by Brandi Morris at Brandi Image Photography