FLocal had the opportunity to sit down with Tampa Police Sergeant and mountain bike enthusiast Colin McCoy this past week to learn all the ins and outs of mountain biking in Florida. Sounds crazy right? Florida albeit flat is becoming a mountain biker's haven for recreational exploration, and is making a name for itself in our state. There are many existing trails made by locals and new trails will be popping up at our local state and county parks this new year; we will cover this at a later date, so stay tuned! With so much focus on fishing and boating in Florida, we think mountain biking could be your perfect new adventure!
With so many questions for Colin McCoy, we of course asked the great opener of:
What drove you to start this?
The short answer to that is: God. I mean, who starts a mountain-biking (MTB) based business in their 40's… in Florida of all places? But I truly feel led to help people through this passion. The longer answer to that question is: I needed more cardio-style exercise and I despise running for no purpose. I first got started riding in 2010 when we lived over near the Alafia and Balm Boyette trails. I bought a decent hard-tail bike, threw my leg over the top tube and off I went, nearly breaking my collarbone and several ribs in the process. But I was hooked. At that time finding MTB training was not common here in Florida. I wish I would have had skills training when I started, and I keep that in mind whenever I am working with people. Getting some skills training is essential to having a safer, and therefore MORE FUN ride!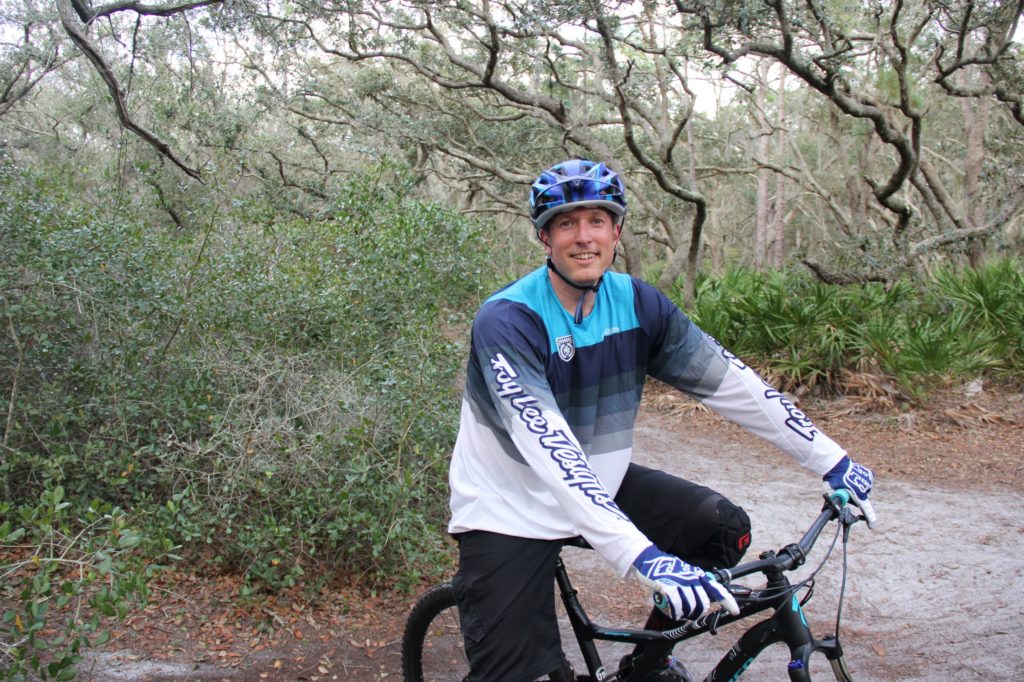 The police department gave me the opportunity to work on bikes for the Republican National Convention when it came to Tampa in 2012. Our riders saw the most "action" during the event, and we also made the most contact with people in really great ways. No one talked to me more than when I was on the bike. There is a commonality that people find there I think: we all loved to ride our bikes, didn't we? This led me to propose the first full-time Bike Unit at the Tampa Police Department, which I was promoted to establish and build in 2015. In creating the unit, I learned to develop training programs for instructors through the Bicycle Instructor Certification Program (BICP) and learned a great deal about bikes themselves and picking the right tool for the job. I was an instructor for police mountain biking with several organizations, including LEBA, BICP, and I traveled instructing for Tiger Mountain Tactical also. I developed firearms training and officer skills training on bikes at my department. Much of this is what led me to realize I really enjoy teaching and developing new ways to deliver material to make training fun. It was a tremendous opportunity, and one that taught me so much. We were able to get back to the basics of community-oriented policing, and we all were having fun! That has been the key to realize – bikes are fun! They were our first sense of freedom as kids, and they're still a blast to ride.
One thing always leads to another
Having coffee with Drew Weatherford and Julius Tobin one day led to a great partnership with the OnBikes organization, through whom we got bikes donated that we were able to donate to kids, and use to teach kids about bike safety. We developed a comprehensive Bicycle Safety Rodeo for kids. Huge success!
The list goes on and on. As a whole, my experiences laid the groundwork for me to realize that bikes are a great tool with which to reach people. I believe this – reaching people through the use of MTB – is where the Lord is sending me after I retire from the department, so I started to look at my "exit strategy" for when I go back to full-time civilian life.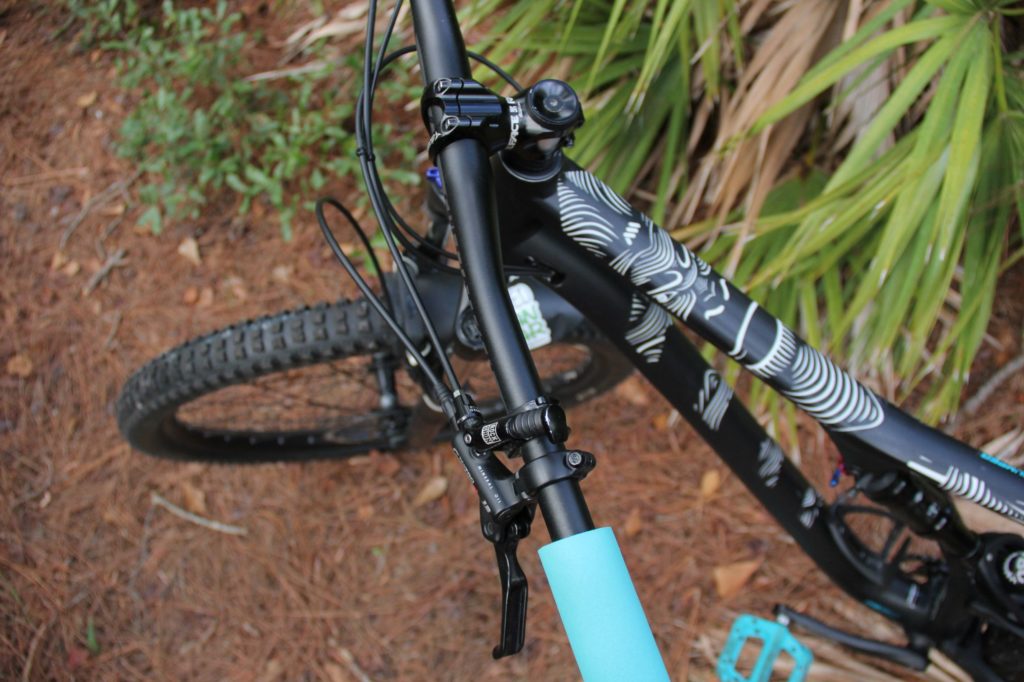 After receiving my civilian instructor certification through the BICP, I established Ten10Active based on John 10:10, which says the "enemy has come to steal and destroy, but I [Jesus] have come that you may have life and live it to the fullest!" I then started teaching clinics and doing private coaching. The things I share on social media combine my faith with the love of riding, and I have been blown away with the positive response it has garnered!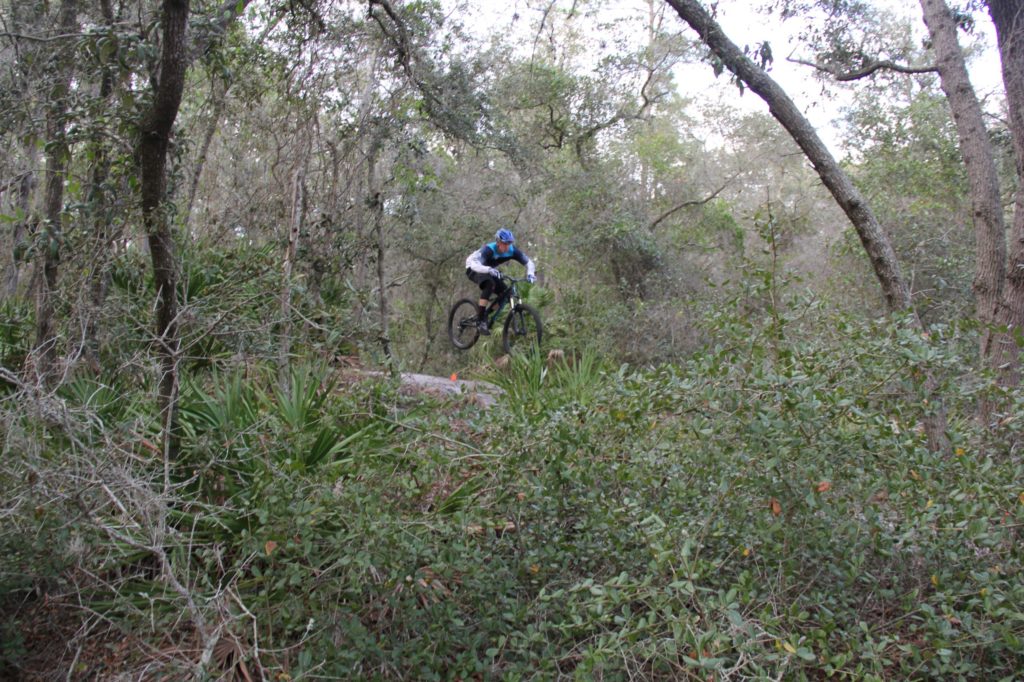 Through this I was led to Fully Packed Adventure Ministries (FPAM), where I have just been brought on as the Co-Director for this non-profit organization. We have some awesome plans in the works for MTB training and teaching, and using that to help reach more people! It is SO exciting to see these things happening!
Also, the Florida Interscholastic Cycling League (FICL) has started this year as part of the National Interscholastic Cycling Association (NICA) with the goal of integrating MTB as a school sport! There are leagues nation-wide with this being our inaugural year, so it is exciting to be in on the ground level here. I started a team locally (PC3 Sharks) with my daughter in mind, and it has been a blast working with the kids and watching their explosive growth in a short period of time. They are like sponges, just soaking up the teaching and showing real and rapid growth on the bike!
Mountain bike trails near me in Florida?
You might be surprised to know how many great trails there are in Florida. There are riding opportunities for every skill level. It's exciting for me, to see MTB trails coming to life right here in Pinellas County! I was born and raised here and have always loved our county parks. The economic recession in 2008 eviscerated much of the ability of the Parks Department to create and maintain, and it has been slow to recover. Through collaborative work with the SWAMP Mountain Bike Club and Pinellas County officials, we have 3.8 miles of trails being established at Walsingham Park! Again… MTB in Pinellas County? Who would have thought that?! But it's happening! Natural Trailbuilding, LLC is the company that is building these trails, led by another local: Mike Cole. He is using the natural beauty of the Florida landscape to accentuate the trails being laid here, and they are going to be so much fun! I think this will be another natural tourism opportunity for our area as well, and a potential NICA/FICL race venue!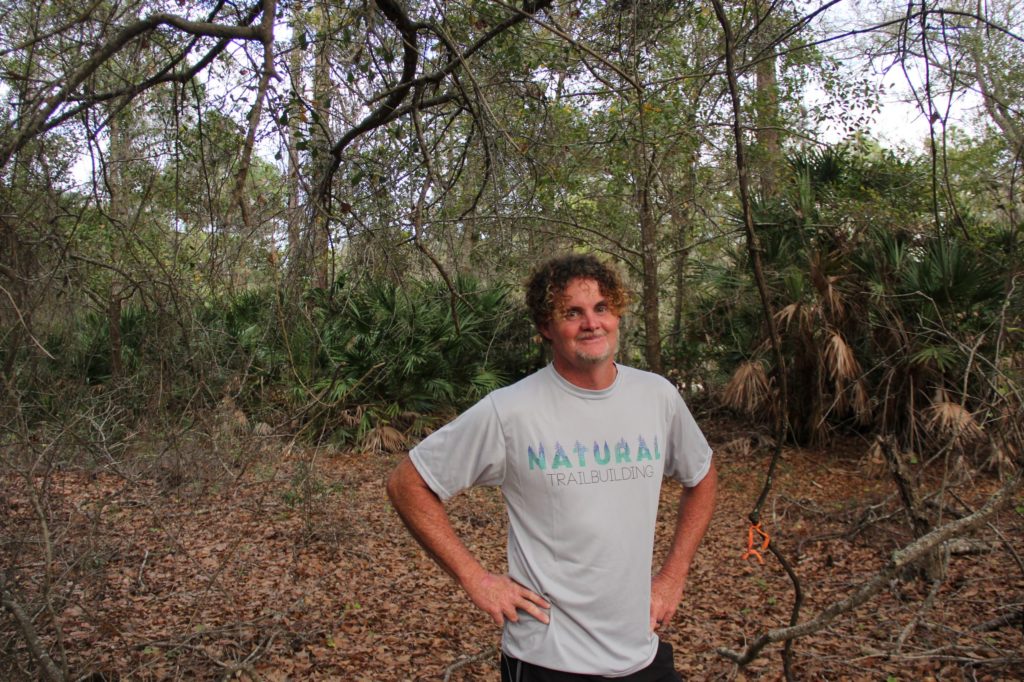 I also really like riding at Balm Boyette Scrub Preserve and Alafia River State Park over in the Lithia area, and Santos in Ocala. Boyette is more cross-country riding, but features trails for every skill level. Alafia has more man-made features, but they are visually stunning and super fun to ride. Trails there have some legitimate challenges. Santos has more difficult features with expert-only lines in addition to their beginner skills areas and cross-country trails. These trails are all volunteer-maintained and built. I highly encourage anyone who rides or wants to ride to consider becoming a part of their local MTB club that supports the trails in their area. Here in the Bay area, that is the SWAMP club. The Friends of Alafia is the group supporting the park trails there, and OMBA is the group that takes care of the phenomenal trail system at Santos.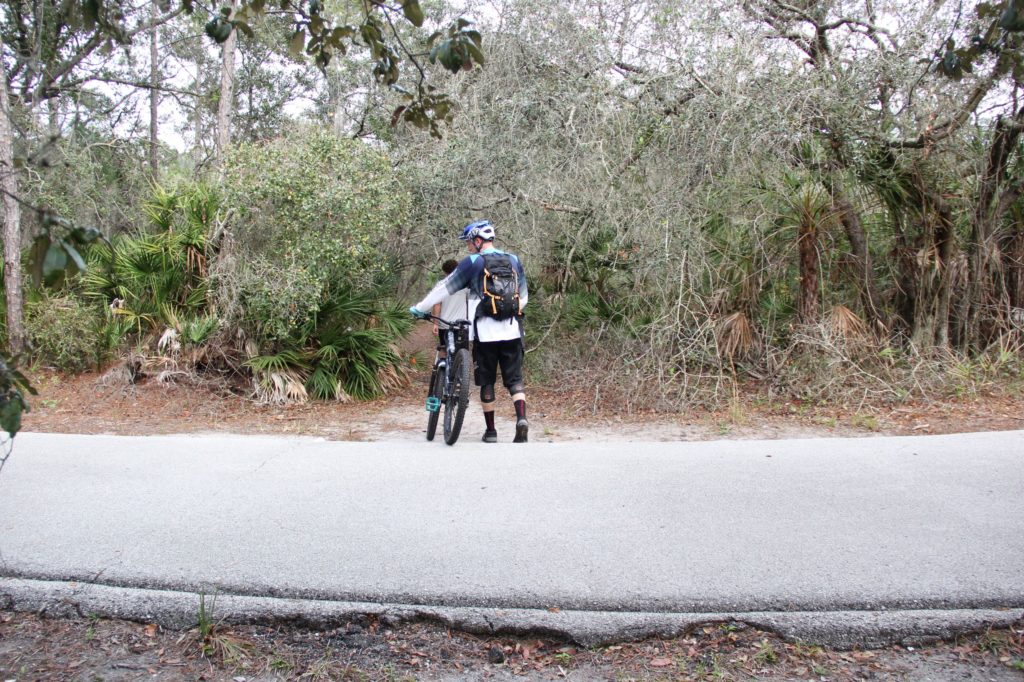 Are you a tour guide for hire?
The short answer is: Yes, and it depends on the client needs. Right now, my focus has been on integrating into FPAM and developing curriculum for MTB training in several venues. The work we have done and will continue to do in offering skills clinics for the SWAMP Fat Tire Festival at Alafia every year has been so much fun and continues to grow and expand. This year we will offer the first "Real Dirt Church" at the festival in November, where we will offer a devotion on Sunday morning for all the riders who want to attend. We are humbled and excited about the opportunities with this and have been asked to take it to festivals in Indiana and Arkansas as well in 2020! There is so much happening right now… the vision is there, and we are counting on the Lord to help make it a reality.
Best trail riding spots?
That's a big question. I think Florida has more to offer than people realize. There are trails all over this state that have great options, with just a few mentioned above. I have been to Northwest Arkansas several times and been able to ride there. What is happening in the MTB community there is mind-blowing. This area is becoming a rider's hotspot destination, largely thanks to the work of the Walton Family Foundation, led by Tom and Steuart Walton. Seriously, it's incredible.
Oak Mountain State Park in Alabama and North Georgia have great riding and each of these places are about a 9-hour drive from the Bay area. Farther abroad from that are the places I haven't been to yet, but I'd like to experience, that are legendary: Snowshoe in West Virginia; Whistler and Squamish in British Columbia, Canada; Moab and Park City in Utah; Colorado; Idaho; Washington state; and Galbraith Mountain, Tiger Mountain, and Duthie Hill… the list goes on.
Best equipment for bike riding in Florida
Like I mentioned before, it's about having the right tool for the job. What are you riding and where? The #1 piece of equipment is your helmet. I recommend getting one equipped with MIPS (Multi-directional Impact System), which basically allows the helmet to "float" around your head on impact. It's the same technology being used in football helmets now. After that, consider your contact points on the bike, and build from there: hands and feet.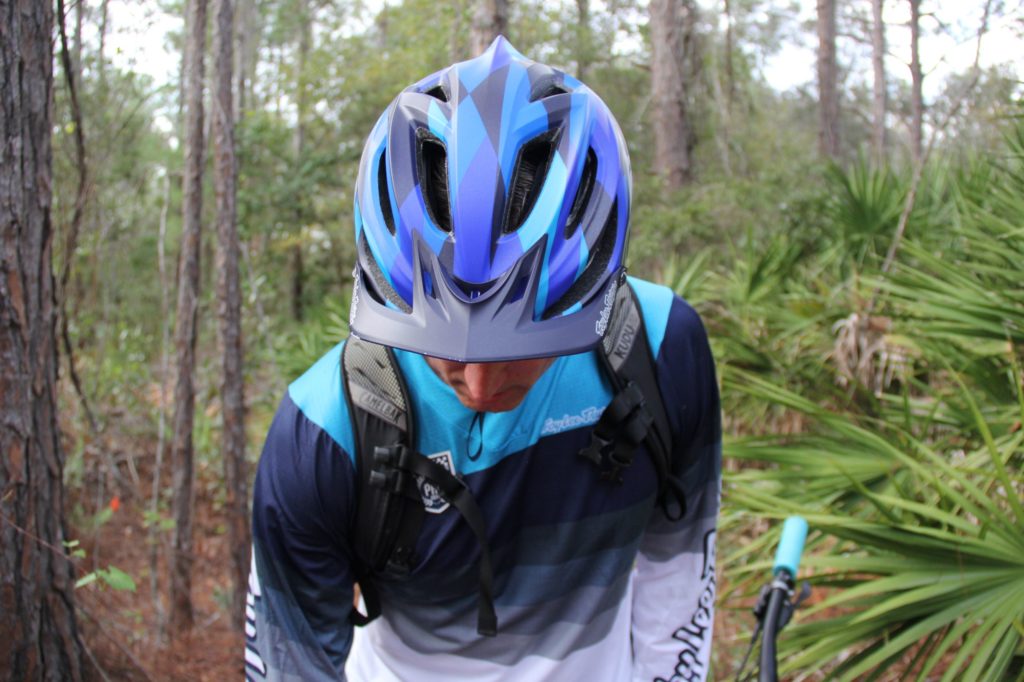 Most of the rest comes down to personal preference. For instance: a common debate among riders is whether to go "clipless" or use flat pedals. I have tried both and have to say I prefer flats. It is important to wear the right shoes with flats, and I use Five10 shoes. I've found those to be the most comfortable and functional.
Padded bike shorts (chamois) are a great extra to have for long days in the saddle. And speaking of saddles, another local company: ISM makes some of the best out there. Steve Toll (another retired cop!) developed a seat designed around your anatomy that I absolutely love. Check them out!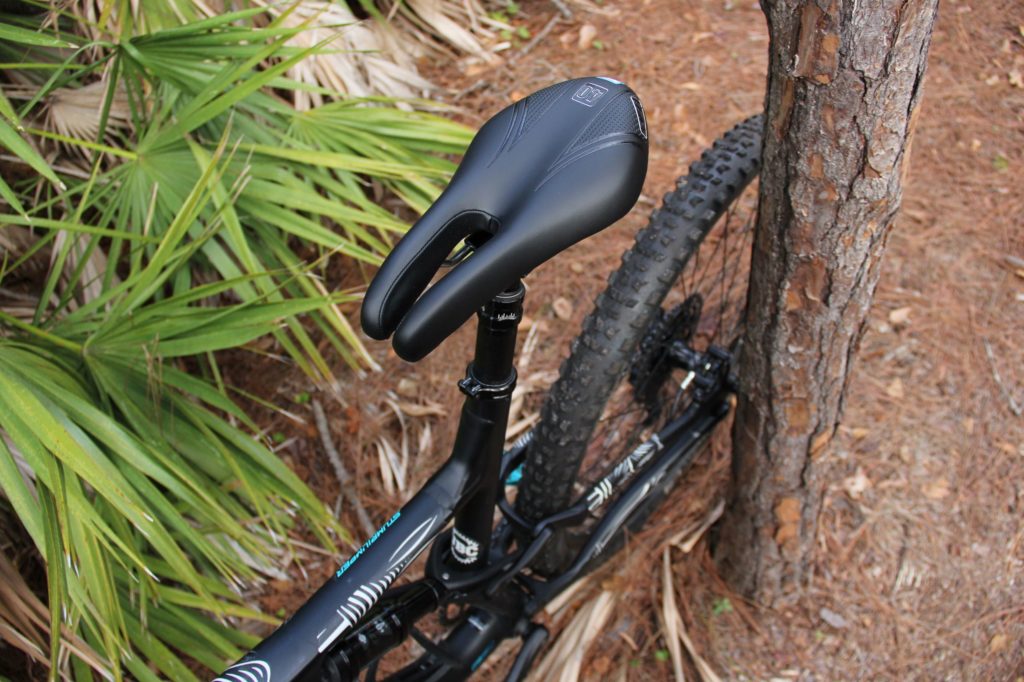 I recommend gloves to protect your hands and also to help when that Florida heat makes your hands sweaty. They help keep good contact with the bike. There are tons of great brands out there: Rip and Shred Company is a locally-owned gear company, and Pedal Mulisha also has good options. ASendit Gear out of California is great, and then of course the larger retailers like Troy Lee Designs, Dakine, and Bell/Giro have great clothing and safety gear options.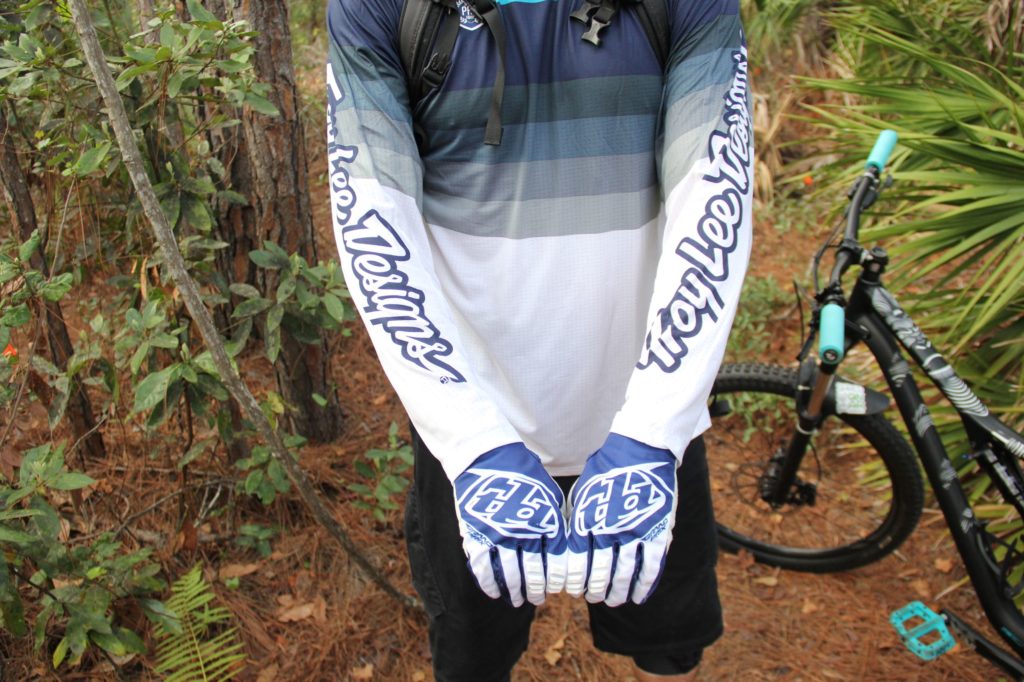 Finally: don't forget to protect your eyes with some shatter-proof eyewear. Low-hanging branches and rocks that jump up from your tire or the tire of the rider in front of you can cause massive problems, especially if you're moving at speed. Use pads as appropriate, and enjoy the ride!