The performance is artist Hope Ginsburg's fourteenth in a series of sited meditations. In collaboration with diver Matt Fowler, Land Dive Team: Tarpon Springs is an effort to draw attention and conversations around the climate crisis, our relationship to it, impact on our lives and future. Engaging trained participants meditating in scuba gear on land, the performance proposes the practice of present moment awareness. As Joshua Quarles composes and accompaniment of a live musical score integrating both the breath of composer and the land divers into the amplified, immersive soundscape. This exhibit welcomes audiences to join in on the collective and meditative breathing practice as a tool for coping with the emotional and mental challenges of living in an rapidly extreme environment.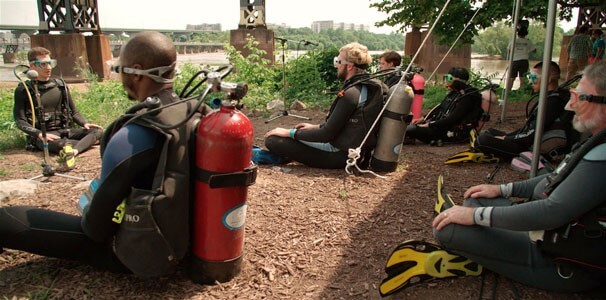 Presented in partnership with The Sponge Exchange, Tarpon Strings Music and Turn the Tide for Tarpon, this exhibit is located within the Tarpon Springs' Sponge Exchange, where sponges were historically traded. This moving performance taps into the former function of the space to enhance a stimulating social revolution. One not to be missed and most appreciated by supporters of the arts!
To view this exhibit and be a part of it, join the artist and FLocal Magazine Sunday February 23, 6pm at The Sponge Exchange. Admission is Free thanks to USF Contemporary Art Museum, part of the USF Institute for Research in Art in the College of The Arts.