The St. Pete Beach Seafood & Music Festival returns for its second year to Corey Avenue in downtown St. Pete Beach on February 1-3, 2019. Relish and relax for the weekend, by kicking back and enjoying a blending of delicious foods, live music, and shopping a marketplace of arts, crafts, and fine products.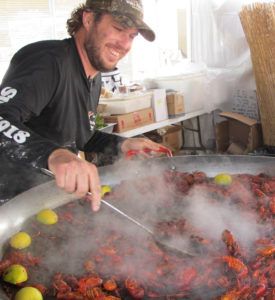 Meals are cooked onsite using only the freshest ingredients and seafood dishes using sustainable ocean resources from Florida coastal waters. You will also find meat entrees and a variety of vegetarian and rice dishes. Alcoholic and non-alcoholic drinks are available along with a diversity of side dishes and of course – some scrumptious dessert items!
While eating, relax to some of Florida's top musical entertainers performing live on-stage. This year's performers include on Friday: Mike Tozier (blues, rock, variety), The New Rulers (ska, reggae, soul) and the Caribbean Chillers (Jimmy Buffet Tribute Band). Saturday performers include: Kettle of Fish (rock, blues, reggae), CeCe Teneal & Soul Kamotion (blues, soul, roots), the Billy Rice Band (country rock), Reverend Barry & the Funk (soul, funk) and the Bob Marley Tribute Band featuring Yvad, formerly of the Wailers (reggae). Sunday performances will be by the Sarasota Steel Pan Band (Caribbean), Twinkle & Rock Soul Radio (rock, soul), Black Honkeys Band (rock, soul) and the Shindigs (Beach Boys Tribute Band).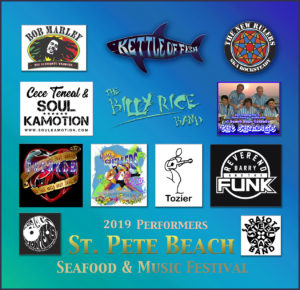 Visit the website for the performance schedule.
Gather with family and friends or meet up for a weekend of fun, good food, great music – all pure relaxation! Great event, free admission, pure relaxation – what's not to love about it!
Hours are Friday from 4pm – 10pm, Saturday 11am – 10pm and Sunday 11am – 6pm. Admission is FREE. The event is graciously hosted by the Corey Area Business Association.