By Kimberly Davis
YO HO HO and a bottle of rum! Well, maybe not rum (pirate season is so last month!) but a nice local IPA is always on the list for a day of boating! Making sure the food is easy to prepare, and eat, will ensure that everyone, including the first-wench, enjoys a day of relaxation and fun in the sun! So let's talk fun-in-the-sun food! Usually that means your standard cookout fare – burgers, dogs, steaks, and more. But we are talking about fun-in-the-sun BOAT food, and that's a whole new food game. Unless you have an on-board grill or are planning on anchoring up and off-loading supplies to cook, your best bet for boat food is finger food that everyone can comfortably enjoy from a cooler or at room temperature. So what's a foodie-floater to do? Don't worry – we've got you covered!
The 5 "S"s for a foodie fun-in-the-sun day
S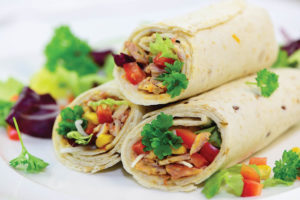 andwiches. Also known as the "one-handed food miracle" (I may have made that up), pre-made sandwiches and wraps are the perfect little food package. Here are some options to satisfy your cravings: Make Ahead – Wraps are great options for a day on the water. Any deli meat and cheese wrapped in a tortilla will hold up well in a cooler or insulated bag. Turkey and American, ham and brie or roast beef and cheddar are some of our favorites. Sliders are super! Use a full pan of the mini Hawaiian Rolls and any meat/cheese combo. After pre-cooking at home, bring up to "boat temp", pull apart and enjoy! Tips – hold off on adding any mayo or mayo-based sauces and provide in separate containers at lunch time. Soggy bread is no fun in the sun. Also, sandwiches and sliders wrapped in tin foil can be placed in the sun to be warmed up! Grab & Go – Publix Cubans and subs – Ask the awesome deli folks to slice them into smaller sizes so no prep work is needed on the boat!  Frozen Uncrustables – Not the healthiest of options but sometimes easy trumps healthy. Toss them into your cooler right out of the freezer and they'll be ready to eat by lunchtime!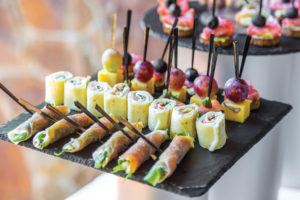 Sticks.   Okay let's face it – anything on a stick is fun and easy to eat! So how does that work on a boat? Again, don't worry – we've got you covered! Make Ahead – Chicken or beef skewers are so easy to make at home and can be eaten right out of the cooler! Simply marinate bite size pieces in olive oil, lemon juice, garlic and spices, skewer them and grill up the night before! Once they've cooled, put them in a Ziploc and you are ready to go! Pasta salad skewers are fun for everyone, especially the kids! Get them involved the night before, pick some family favorites, and assemble your skewers – we love cheese tortellini grape tomatoes, green bell peppers and mozzarella cheese! Drizzle some Italian dressing or balsamic glaze over the top and BOOM! Giuseppe's your uncle! Tip – save half of the marinade or dressing and let the cooked and assembled skewers sit in that overnight. EXTRA tasty! Grab & Go – Publix again! Does everybody else love that place too? And again the awesome deli folks will do gorgeous fruit skewers versus a fruit platter. Same cost – simply call ahead and tell them how many people you are planning to feed. Louis Pappas and Genghis Kahn do skewer platters to go! Just give them a heads-up and make sure you can safely chill the meat any sauces they send along. Both have multiple Bay area locations.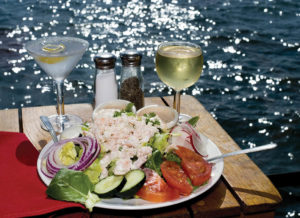 Salads. As a woman, I ask you..is salad the perfect food or what?! So versatile, so yummy and – for boaters – so PORTABLE! Make Ahead – German potato, southern potato, vegetable medley, Caesar, fruit –the possibilities are endless! Pick some favorites and let everyone help themselves with disposable forks and small bowls! We also love serving as a "dip" with crackers. See guys – real men eat salads too! Tip – Any salads with mayo/meat must be kept in the cooler until ready to eat! #NoMoreSalmonella. Grab & Go – Publix, Wrights and Mazzaro's all provide GORGEOUS take out salad options. Always make sure you can keep everything properly chilled. No one wants a fun boat day ruined by a salad gone bad.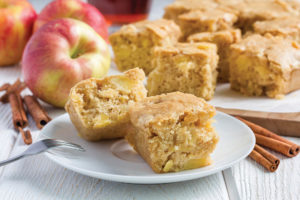 Sweets. Again, as a woman, I ask you..who says NO to chocolate?! Well..here it is! Boaters say NO to chocolate! Melt = mess on a boat. So yes, this one time – just say no. Make Ahead – Blondies are easy to bake and take on board in place of brownies! No chilling needed and so yummy for every sweet tooth on deck! Muffins and cookies are a staple on any boat day menu. Blueberry and apple muffins, sugar cookies – really any of your family favorites! Bake up the night before and bring in a Ziploc bag for everyone to grab and enjoy! Tip – keep muffins "mini" and cookies bite sized! Fewer crumbs and no leftovers sitting around make clean- up much easier after sunset. Grab & Go – Toffee-To-Go, Datz Dough and – you guessed it – Publix all have AMAZING options for boat-friendly sweet treats.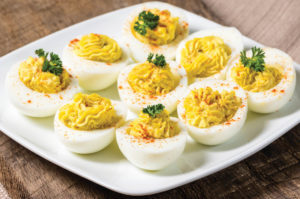 Snacks. How much fun is this "S"?! While most sailors live in the "salt life", I basically live in the "snack life!" Which is also why I live in coverups. But really..snacks on boats. It's the perfect life! Make Ahead AND Grab & Go – Deviled eggs, watermelon slices, cantaloupe chunks, beef jerky, hummus, onion dip, pretzels, veggies, WINGS, chips, chips, chips… well, you get the picture! Any and almost ALL of your snack choices can be made or bought ahead of time and stored safely on board, EXCEPT cheese. And that makes me sad. But unless you have a galley, cheese is not the ideal fun-in-the-sun snack food. Once you get off the boat, however, give me a call and we can go see the folks at Cheese Please. My treat! Tip – Pre-packaged cheese and crackers, a la kid's lunch box snacks, are PERFECT for the boat.