We've all heard that we "only get one planet- we'd better take care of it." Every year on April 22nd, the residents of our little blue and green ball in space celebrate Earth Day, with people the world over celebrating our amazing planet and calling attention to environmental awareness and protection. First celebrated in 1970, Earth Day is now recognized internationally by over 190 countries.
But what if we did more to be "environmentally aware" on the other 364 days a year? Odds are, you probably already do, whether it be through recycling at your home or business, carpooling, or using energy-efficient appliances and LED lighting. All of these actions help to reduce our individual carbon footprint, or the amount of carbon released back into the environment by our activities. One area that is often the largest slice of the carbon footprint pie for most people is transportation. Though cars and trucks are getting more fuel efficient, they're still quite a far cry from riding your bike. Once a facet excusive of futurism shows, electric cars are becoming more mainstream, with new models being released all the time.
In rolls the Chevrolet Bolt EV.
The Bolt features a practical and useful 238 mile range, and 119 mpg-e, which is quite refreshing for an electric hatchback when compared to the sub-200 mile ranges of several other small electric vehicles.  Range and charging times are often among the factors that can keep someone from buying an electric car, but with 90 miles of range available in just 30 minutes of charging on a DC Fast Charge (where available), you can take the kids from Tampa Bay to Walt Disney World and be recharged before you're done riding Kilimanjaro Safaris at Animal Kingdom.  The Bolt will also fully recharge its 60-kWh battery overnight (9.5 hours) when plugged into a 240-volt outlet.  With charge times like that, and a range that will easily get you where you need to go, the Bolt certainly competes with the range of gasoline cars.
Floridians will appreciate the range offered by the Bolt, especially considering the sprawl of Florida's many entertaining destinations. Whether you're trekking north to Weeki-Wachee Springs to visit the mermaids, or south to Boca Grande Pass to bend a rod to the silver king, the Bolt has the range to get you there. Thankfully, both of those treks involve driving through parts of Florida that are still only lightly affected by development, affording the chance to take in some of the state's scenic beauty.
Two trim levels are available for the Bolt: the LT, which starts at $37,495; and the Premier, which starts at $41,895. Tax rebates of up to $3,750 are available until fall 2019, which can help when you start tacking on options. As you can imagine, the Premier boasts features that are optional on the LT, like a leather-appointed interior and driver-assistance technologies. The LT does come standard with a vivid 10.2-inch touchscreen, Wi-Fi, Apple CarPlay, keyless entry and push-button start. An option that is a must is the DC Fast Charge. Heated front seats and a heated steering wheel can be had with the Comfort and Convenience Package, and driver-assistance options are available with the Driver Confidence packages.
Like most electric cars, the acceleration is prompt and responsive when you put the pedal down. Due to its short wheelbase and spritely handing, the Bolt can make U-turns on some of the narrowest streets, and is quite fun to drive. Not hearing engine noise takes a little getting used to, but is otherwise soon forgotten. Coming in at under 3,800 pounds, the Bolt can stop quickly, which is essential for city commuting. And speaking of braking, drivers will get a kick out of the regenerative braking paddle on the left side of the steering wheel. This lets the driver control the amount of regenerative braking applied, scavenging kinetic energy for battery charging while also acting as a sort of hand-brake for the car.
Our Bolt was put to work prior to Earth Day, ferrying Tampa Bay Waterkeeper (@tampabaywaterkeeper) staff to water sampling sites across Pinellas County, Florida. The Waterkeeper Alliance works worldwide to ensure safe access to public waterways for the recreating public. Tampa Bay Waterkeeper samples the waters of Tampa Bay at nine locations every Wednesday, posting the results of testing those samples for enterococcus every Friday to social media. Enterococcus is a bacteria that serves as the federal standard for water quality in US public waterways, and is highly associated with many other bacteria often found in municipal sewage and rainwater runoff. With the addition of a 21-foot skiff this summer, courtesy of Bombardier Recreational Products, Tampa Bay Waterkeeper plans to expand its mission throughout more of the Tampa Bay region.
There was plenty of room in the Bolt for three adults (all of whom were at least six feet tall), photography equipment, and water testing supplies. The cargo cover behind the rear seats easily conceals items from view, and the rear seats fold flat for even more cargo space. As is expected of any vehicle (electric or gas), the more weight you carry, the shorter the range will be. The interior was comfortable while driving along the scenic waterways of Pinellas County. The finishes on the dash and door panels will remind drivers and riders of rides at Epcot, with tastefully futuristic white-and-gray carbon fiber accents and blue LED trim lighting. The touchscreen has a user interface that it easy to understand, and boasts details on several interesting metrics of electric vehicle performance and energy management. Using your phone for navigation, music management, and more is a breeze with Apple CarPlay, all broadcast over the crisp Bose surround sound.
Our Premier Bolt came fully-loaded with a plethora of driver-assistance features which really take the stress out of driving in a metropolitan area like Tampa Bay. The Forward Collision Alert system sounds to let you know when your following distance from the car in front of you is being reduced faster than it safely should. Front Pedestrian Braking and Front Automatic Braking both engage to avoid pedestrians in the street and suddenly stopped cars on the road, respectively. Lane Keep Assist and Lane Departure Warning work together to keep you in your traffic lane, and alert you when you drift too far. Blind Spot Monitoring further helps ensure there isn't an obstacle (like another car) that you can't see in the lane in which you're turning. The rear of the vehicle features multiple collision-avoidance technologies, including the Rear Vision Camera, Rear Cross Traffic Alert, and Rear Park Assist. Combine these driver-assistance features with the Bolt's five-star rating from the National Highway Traffic Safety Administration, and you have a well-equipped and very safe electric hatchback.
The limited warranty on the Bolt covers three years or 36,000 miles, with five years or 60,000 miles for the powertrain and eight years or 100,000 miles for the battery-related components. These warranties help ensure that you can remain green and worry-free in the Bolt for years to come.
On Earth Day, and every other day, consider your carbon footprint and what else you can do to have a positive effect on the environment. Start a recycling program at your office. Opt to receive the newspaper and monthly bills electronically. Participate in a waterfront cleanup with Tampa Bay Waterkeeper. Change the lights in your home over to LEDs. Carpool to work. Maybe even in a Chevy Bolt.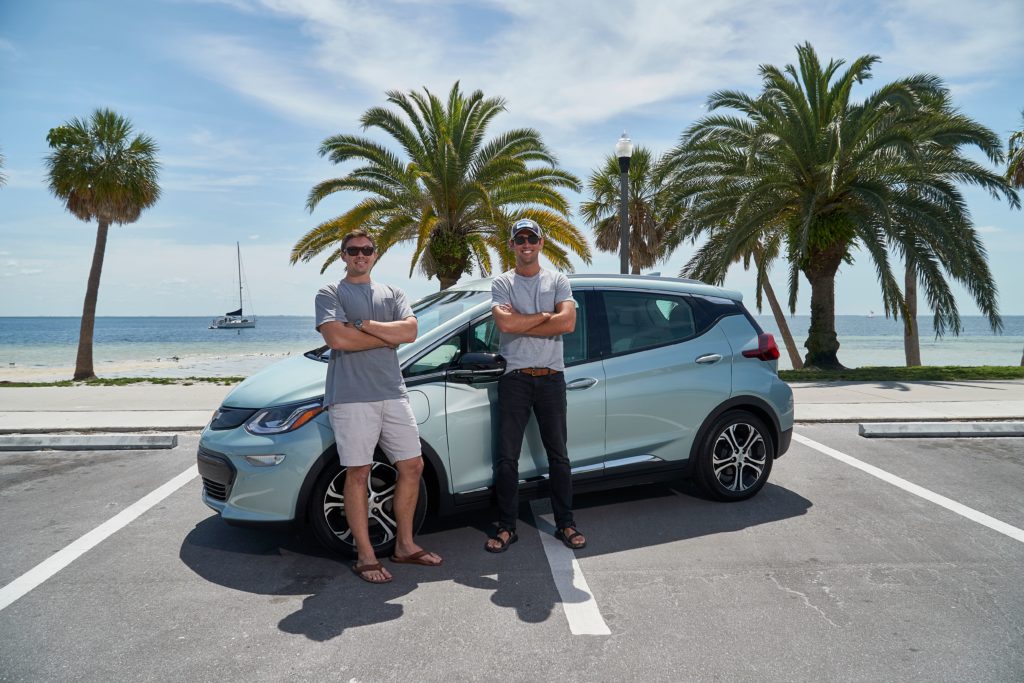 Created by FLocal Media for Chevrolet (c/o Weber Shandwick)
Special Thanks to Tampa Bay Waterkeeper for its involvement in this article.